Meursault Mondays
My very good friend Dawn and I used to work together every Sunday and Monday at 56 Degree Wine. We still get  to see each other every now and then, but I wanted to write a little something about a memory that's very near and dear to both of us… Meursault Mondays. It started out one summer Monday in 2008 when a very good customer came to the shop to chat with Chris about some wines that he wanted to purchase. Chris chose several different Village and Premier Cru Meursaults to show him. The customer purchased his wine, and ended up with 3 cases plus a bottle. He then decided to open one of the bottles right there, to share a taste with Chris. Dawn and I arrived moments later, and we were greeted with a glass each. Meursault for breakfast – any day!!!!!  Upon the customer's departure, he left the open bottle of Meursault behind. We ran out to give it to him, and he waved his hand to us saying "You girls enjoy!"  After that day, every Monday was referred to as "Meursault Monday." Even if we were sampling Bordeaux. Even if we were sampling Brunello, Even if all we had to drink was coffee. It was always Meursault Monday for me and my Dawn-y. So I just thought I'd post some of my favorite wines here – all enjoyed in the company of my friend Dawn. (Along with some of the unreal pairings that I've been lucky enough to experience!)
2000 Lopez de Heredia Bosconia Rioja Reserva – (Here's what 56 Degree Wine has as the description) Like the great producers in Burgundy, Robert Ampeau and Camille Giroud, Lopez de Heredia holds their wines back and only releases them when they are deemed "ready to drink". The 2000 Bosconia is pure Rioja, conjuring thoughts of a great Pomerol. Supple but still primary, there is a bevy of dried cherry, leather, licorice and spice. Long finishing and in no danger of fading any time soon, enjoy this classic wine anytime over the next ten years.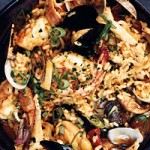 I have savored the Rioja above on its own, but it shined when paired next to Paella Valenciana!
2005 Richard Leroy Anjou Sec Les Noels de Montbenault – (Here's what 56 Degree Wine wrote about it) This is such a great wine that we couldn't pass it up. Richard Leroy makes handcrafted wines in extremely small lots. We love the non-oxidative style of 100% Chenin Blanc. Very fine and very flavorful, the use of older oak is apparent showing richness without wood domination. Fruit forward, zippy acids, tropical tones, mango carmelized apples and a long textured resolve. Just enough sweetness to easily handle spicy dishes. Wonderful!
I love this wine with seared scallops over a microgreen salad with fennel and citrus tarragon dressing. This is equally lovely with Thai take out!
2006 La Peira En Damaisela Obriers de la Peira Languedoc -  (Here is 56's description) A deeply fruited and unique blend of 65% Cinsault and 35% Carignan, this wine represents some of the best juice I've ever tasted from the Languedoc.  Sweet mixed berries, hints of cloves and cassis with a freshness and verve that make this wine so easy to love.  The fine balance and lingering floral note that caresses the palate after the wine dissipates is really striking.  Utilize this Cellar Defender™ anytime a juicy red is needed between now and 2012.
This was fabulous with braised short ribs or braised lamb shanks over truffled polenta.
Last but not least, every time I open a bottle of Meursault, I will think of Mondays with Dawn. Here is my all time favorite producer and one of my all time favorite White Burgundies! Perfectly paired with lobster – either elegantly or casually prepared. My favorite is the classic lobster roll. Made elegant by pairing with this!
2006 Domaine Albert Grivault Meursault Les Perrieres 1er Cru – (As per 56 Degree Wine) The Perrieres ramps up the beauty until it is almost unbearable. Owning 1.5 hectares in what is recognized as the best 1er cru site in Meursault, the 2006 version is full of amazing fragrance of spiced pears and fresh baked bread. Superb cut and balance form the basis for the tangerine, orange peel, crystalline citrus and stupendous length. This wine has excellent aging potential and is best enjoyed now through 2018.
LOOOOOOOVE IT!!!! Cheers, Dawn!
xoxo