I was accompanied by Manish, Jigna, and Piyush; and we all share similar sentiments about our incredible meal at Elements in Princeton.
For those of you that have not been to or heard of Elements, let me start by explaining that this is a restaurant that not only prides itself on the execution of delicious, seasonal, and creative fare… but they strive to (mostly) shop locally for their produce, dairy, and meats… supporting our local farmers. The service is ridiculously professional, by being super friendly and entertaining all the while. Manish and I were lucky to dine there last December, and just last week, we secured a reservation for the 4 of us at the Chefs Table. Here is my recollection of our almost 10 course Omakase style dinner: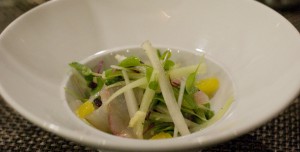 A Trio of Amuse… Main theme here being Citrus. Hamachi with meyer lemon vinaigrette; Poached shrimp with citrus soup; potato Salad with citrus
Salad of microgreens and local greens, shaved white asparagus, orange, and local (Jersey shore) fluke
Pea consomme with fresh peas, fresh favas, pea shoots, and speck (my favorite of the "vegetable based" courses)
Sea Bass with salmon caviar, apple salad, sunchoke puree, and crispy croutons
Skate with fresh peas, carrot puree, and pea puree
Fresh "house made" ravioli with herbed chard ricotta, mozzarella, basil oil, and "Jersey Fresh" tomatoes. Sous Chef Joe Sparatta explained that some of last year's amazing NJ tomato harvest was canned into what many local shops sell as "Jersey Fresh Tomatoes." I thought it was last August when I tasted this tomato sauce!! No joke.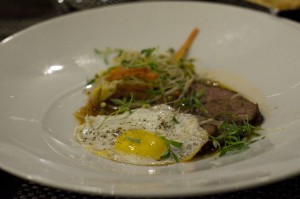 Squab, savory bread pudding, foie gras, and a sauterne sauce(?) Can someone that I dined with remind me if I remember correctly or not? It was phenomenal… but I can't remember what the sauce was!! (This was my favorite savory course!)
48 Hour slow cooked Short Ribs with green curry sauce, vegetable slaw, fried quail egg. Such balance!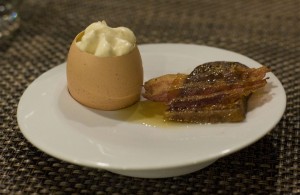 Our "Pre-Dessert" ~ Bacon and Eggs (I was hoping to have this again – YUM!)
Deconstructed Black Forest Cake with a "yodel," (lol) lambic sorbet (to die for,) drunken cherries, and a mushroom meringue.
(Comment to this post and I'll respond to you with the vegetarian courses that were offered as well!!)
We ordered some classic cocktails to start, and enjoyed the 2005 Bzikot Puligny Montrachet (Thank, RH!) as well as the 1988 Vieux Telegraph CDP (Thanks, DS!) Both drank beautifully and stood up to the caliber of the food!
Special thanks to Emilia for setting us up at the chefs table at such late notice; to Justin for his impeccable appreciation for what we were hoping to accomplish that evening (you are the best!) And to Chef Joe and Chef Scott for the amazingly creative, seasonal, and delicious meal that we were served.
And of course, the evening was made even more special because we shared it with two people that are so near and dear to us… Cheers guys – here's to the countless dinners that we shall have in our future together – Love You!
Make your reservation TODAY!!!!