Spring had sprung, and CACAO was the theme ingredient in this Season's Battle. Possessing earthy and sometimes bitter qualities, cacao laid the foundation for unique, and creative dishes and was utilized in every form: From cacao nibs, to unsweetened cocoa, to dark chocolate, and even a chocolate infused liqueur. Each course combined creative uses of the theme ingredient with seasonal spring market touches. Folks, we definitely all stepped it up a notch! Here are the details…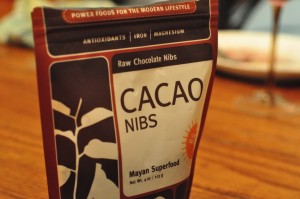 The Hors d'oeuvre/Cocktail Course: Sejal and Rick brought three adorable and delicious amuse bouche to the table! A spiced pumpkin soup (in a shot glass) was topped with a cocoa cream and sprinkled with a little bacon. The warm spices in the soup matched the earthy components of the cream – the key was to get all of the flavors in one "shot." Mission accomplished 🙂 Next to that was a beautiful micro green salad dressed with a chocolate vinaigrette. The dressing was so light and complimented the zingy and peppery little greens. The star of the plate was the chocolate Napolean. Tiny shards of dark chocolate (not unsweetened, but definitely not overly sweet) were layered with an chive cream cheese. Such a unique flavor combo – but yum… they really complemented each other… I'll take another! All of this was paired with the lovely J Winery Brut (sparkling wine.)
The First Course: I have a bittersweet memory of this course (literally,) as it was the one that Manish and I brought to the table. Hands down, I will tell you that we have NEVER spent so much time on the planning and execution of a single course. Our theory behind the main ingredient in this course (wild mushrooms) was justified by our desire to pair the earthy flavors with the cacao, and make them vibrant. Our base was a medley of wild mushrooms. We smoked petite whites and shitakes with cacao nibs and wood chips. We combined these smoked mushrooms with the morels and chanterelles that we marinated in a cacao "coffee" (that we made by grinding cacao nibs and filtering the coffee through a french press.) We folded some fresh thyme, sauteed ramps (and the fresh green tops as well,) and a little taleggio into the mushrooms. Alongside, were two diamond shaped pieces of "mushroom consomme and cacao coffee" gelee. A dot of chocolate barbecue sauce added a bit more smoke, and we topped the entire plate with a cocoa-Parmiggianno crisp. I enjoyed everything about the dish, but was unsure that the combination of flavors actually complemented each other. In the end, we would do it again, but maybe without brewing the cacao coffee! 😉
The Main Course: Jigna and Piyush contributed to our mouthwatering journey by offering the evening's unforgettable entree. Short ribs were marinated for 48 hours in red wine, slow cooked, and then finished with a chocolate rosemary reduction. So tender and so flavorful… SO good! The herbaceous quality in the sauce really paired well with the rich chocolate addition and the protein. This was accompanied by a lovely pasta with zucchini and cacao nibs cooked "risotto style." The luscious texture of this amazing pasta made for an exquisite  foundation for the beef. The course was finished with a bright splash of spinach, and topped with a perfectly fried pheasant egg. The bold and subtle components of the ingredients made for a perfectly balanced dish! We enjoyed one of my favorite Malbecs with this – 2008 La Posta del Vinatero Malbec Cocina.
The Dessert: Priti and Chirag presented us with a "day" of desserts. No joke! They served what they called "Breakfast, Lunch, and Dinner." Who wouldn't be happy with chocolate as a main ingredient in each meal of their day! 😉 For "breakfast," we enjoyed crepes stuffed with a rich chocolate filling and blueberries. So decadent, so rich, so delicious! For "lunch," they served us a "sandwich and chips." Perfectly crisp chocolate cookies sandwiched homemade vanilla ice cream, and for texture, savory and sweet potato chips were drizzled with caramel and chocolate. YUM. And for "dinner" (or dessert,) we were offered a libation that tasted like black forest cake…. topped off with chocolate mint. These individual dishes melded into one fantastic dessert – awarding them the title of Battle Cacao Champs!
Thanks to Jigna and Piyush for choosing such a versatile theme ingredient, and to all of my "Battle" family for executing yet another unforgettable meal!