Fingerlake Fun
A few weeks ago, Manish and I traveled to the Fingerlakes with family and friends for an unforgettable weekend of food, wine, nature, and fabulous weather. We were celebrating Piyush's 40th birthday, and we did it IN STYLE!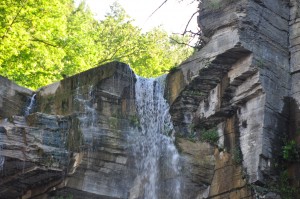 After a long and confusing road trip to our first stop (we tried to keep the trip a  secret from the birthday boy until the last possible moment,) we were greeted by the rest of the group at a beautiful tasting room - Six Mile Creek Winery right in Ithaca. The scenic views from the back terraces were something out of a magazine. From there, we stopped off at a local favorite, Ithaca Bakery, and stocked up on sandwiches of all sorts. We picnicked at beautiful Taughannock Falls State Park – and walked to the beautiful Falls that were nestled in layers of rock that seemed to reach the sky's limit.
We checked into our lovely Bed and Breakfast – Gothic Eves. Roman, one of the innkeepers, greeted us and showed us to our rooms. The Inn is absolutely beautiful. Every room is adorned with lovely antiques and the grounds are manicured to a simple and natural elegance. We enjoyed evenings at the firepit and some of us soaked in the wood fired hot tub! We looked forward to our breakfast with Rose, innkeeper #2, as she has such a passion for local, organic, and sustainable ingredients.
On our first morning, we enjoyed a decadent french toast. The bread was from a local bakery (organic of course,) the berries and fruit were all local and organic – and if I remember correctly, she even picked some of them herself, the eggs were collected that morning from her friend's backyard where free range chickens roam, and the maple syrup was tapped from one of the local NY State sugarbushes. Yes, our mornings with Roman and Rose (and their food) really fueled us up for the day's activities!
The breakfasts at the inn were not the only "blog worthy" food experiences we had. Dinner at Hazelnut Kitchen was DIVINE. Jigna had researched a bit and heard great things about this restaurant, and when we told Rose and Roman where we were going for dinner that evening, they nodded in agreement. The theme is pretty much what we saw everywhere out there – natural, local ingredients are showcased, and new and interesting flavors are combined to
create unforgettable meals. So many dishes to write about… so instead of mentioning them all, I'll just tell you what I ordered. To start, the crispy fried quail with tomato chutney, mustard and creme fraiche, and vegetable slaw. The chef literally picked just the meatiest parts of the quail, and the result was a perfectly crisp coating and super tender meat. Delicious! The tomato chutney's ingredients popped out singing the fact that they were just picked that morning. Yum. The incredibly fresh "spicy prawns" were a tad too spicy for my taste, but even then, I finished most of my meal – it was THAT good! The dessert that stood out in my head was the hazelnut butter cake with sea salt caramel & hazelnut ice cream. So decadent, but not overwhelming at all. The sea salt caramel provided balance to the rest of the components. Like I said before, Divine! Most of the crowd enjoyed local and artisanal microbrews with dinner. I opted to order some wine, and staying with theme, ordered a local winery's claim to fame. More about the Bloomer's Creek Block 97 Chardonnay below!
We went wine tasting along the Cayuga and Seneca Lake trails, visiting wineries such as Shalestone, Sheldrake, and Bellweather Ciders to just name a few. The one that really stood out for me though, was Bloomer Creek Vineyard. We tried the Block 97 Chardonnay the night before, and I remember Sejal and I looking at each other wondering if what we just tasted wasn't a Bourgogne Blanc! I know… I am making a very broad statement here. But compared to many of the off dry to sweet whites and "interesting" reds that we tasted, the Bloomer Creek Block 97 Chardonnay was a true find! Hopefully we all can "find" it nearby soon! Kim Engle is the winegrower and vintner and Debra Bermingham adorns the walls, ceilings, and floors of their tasting room with her vision and true art. Literally – the walls are filled with her art work, and the floors are gorgeous displays of workmanship – with inlays of significant newspaper articles flanking the wood planks. Just plain gorgeous. And their wines… I not only noticed the Chardonnay as being "something to talk about," but their Rieslings had a petrol nose, and the dry Gewurtztraminer was probably the best pairing for Indian food I've tasted from the US!
We ended our weekend with a visit to the one and only Ithaca Farmers Market. We tasted some of the sweetest corn in the world here. And for that, I'll forever be grateful. This will not make any sense to you unless you were there, that day, eating the raw corn kernels off the cob (or in my case, having Manish cut them off for me – lol.)
Happy Birthday, Piyush bhai!