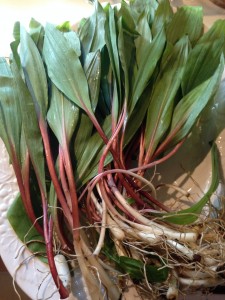 I know what you're thinking…. "Really? With the title of this post?" But I couldn't think of a more appropriate way to describe the way that I felt while writing this. Yes, Rampy. And Ravenous.
Every year at the start of spring, I look forward to finding these delicious shoots of garlic and oniony goodness in the farmers markets and local gourmet grocery store. "What IS a RAMP?" you ask? Well, I wrote about it 4 years ago in this post too, so take a look and get another fantastic recipe to use them in!
I found a few fresh bunches at the market on Saturday and was inspired to use them in everything I cooked. I added some ramps into some marinades that we used for grilling, chopped some up and sprinkled them over eggs, and even seasoned some simply with salt, pepper, and olive oil and grilled them to perfection. The grilled ramps are definitely going to be a staple side dish as long as they are available!
But the recipe that got the highest accolades of the weekend was a simple breakfast biscuit. This was made for a book club brunch and was received with rave reviews. So savory, just spread a little fresh butter on top for an indulgent treat!
Two-bite Ramp Buttermilk Biscuits
1/2 bunch of ramps, cleaned and trimmed
3/4 cup buttermilk, plus 2 tablespoons
1 1/2 cups all purpose flour
1 teaspoon salt
2 teaspoons baking powder
20 grinds of fresh black peppercorns
6 tablespoons unsalted butter, chilled and cut into small pieces
Preheat the oven to 425 degrees F.
Chop the bulbs and stalks of the ramps finely. Chop the leaves as fine as possible without bruising them. Combine the stalks, bulbs, and leaves of the ramps and the 3/4 cup buttermilk in a small bowl. Set aside.
Combine the flour, salt, baking powder, and fresh ground pepper in a food processor. Turn the food processor on for about 30 seconds, until all the dry ingredients are well combined. Add the chilled butter to the flour mixture, and pulse until a fine meal forms, about 15 pulses.
Transfer the flour mixture to a large bowl. Add the buttermilk-ramp mixture and stir just until a dough forms. Do not over-mix. Turn out the dough to a floured work area, and press the dough into a 7-inch diameter round, about 1/2 inch thick. Use a 1 inch diameter biscuit cutter dipped in flour to cut out rounds. Gather the scraps of the dough, reform, and cut more out this same way. Transfer the biscuit rounds to a baking sheet lined with parchment paper. The recipe should yield about 20-22 small biscuits. Alternatively, you may make larger ones by using a 2-inch biscuit cutter. See below for change in baking time.
Bake the biscuits for 15 minutes until golden brown, and cool on a rack. Serve warm or at room temperature. If you use the 2-inch cutter, increase the bake time to 18-20 minutes. Yields 20-22 small biscuits or 10-12 larger biscuits.