For this season's battle, the main ingredient was Summer Berries. In addition to showcasing this ingredient, there was a twist… each course needed to use an additional 2 ingredients out of the following: fresh tarragon; any variety of mushrooms; any variety of dried chilies; maple syrup. Needless to say, we had our work cut out for us! (Challenge accepted! – for you HIMYM fans out there, this deserves a giggle 🙂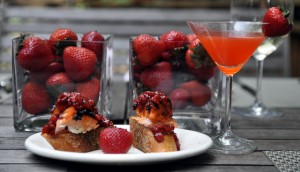 Click on the photos for an enlarged version.
First Course
Piyush and Jigna presented a gorgeous and delicious starter course. Grilled crostini with harissa rubbed salmon (which was also grilled) topped with a strawberry maple compote. Jig's version utilized tofu instead of the salmon. I have had the good fortune of tasting their home-made harissa in the past, and once again, it left me wanting more. The savory and sweet components of the dish were so well balanced and proved to be the perfect introduction to a very berry meal. They also allowed us to whet our palates with a delicious cocktail: Strawberry Fields. The concoction was a shake of muddled strawberries, tarragon, tequila, lemon juice, and simple syrup. I'm not sure that I could describe summer in a glass better than that 🙂
Second Course
Next, Chirag and Priti delivered the perfect summer salad course. The mix of sauteed and fresh fruit and vegetables provided layers of flavor, and the vinaigrette is going to be one of my summer staples! Sauteed mushrooms and cherries accompanied tarragon and creme fraiche atop toasted brioche; and this was balanced with a fresh spring salad with strawberries and a tarragon maple vinaigrette. Delicious brightness and warm earthiness were complimentary mates in this dish! They brought the outstanding 2009 Robert Sinskey Pinot Gris to pair.
Main Course
Forgive the tangents that I may go off on here, as this is the course that Manish and I were in charge of. Various proteins trickled through my mind as we planned the main course for this battle. We finally resolved to using duck. And inspired only the night before the battle with the thought of doing a trio course, we were a bit unsure as to how it would all play out. We opted to showcase our trio as a "breakfast, lunch, and dinner" themed plate. Chirag and Priti did this once before with great success, and this time our decision seemed to pay off as well! Forgive the messy plate, as we realized only after we all started eating that we forgot to photograph this course! For the "breakfast" part of the course, we made a savory corn fritter topped with some duck confit that we glazed with a maple and New Mexico Chili mixture. We topped this with some green onions and accompanied it with a blackberry maple "syrup."  Jigna's course was topped with shitake mushroom that were glazed with the same chili-maple mixture. For the "lunch" part of the course, we grilled flatbreads that were topped with a spicy raspberry and guajillo chili sauce. On top of that was some sliced smoked duck, shaved ricotta salata, and some cilantro. We charred a strawberry and placed that on top of each flatbread "slice." The vegetarian version of the flatbread utilized pan fried oyster mushrooms instead of the smoked duck. The "dinner" part of the course was grilled Magret duck breast that was marinated in the maple-chili mixture that I mentioned above, topped with a strawberry gastrique. Jigna's main dish was a grilled portabella that was also marinated in the chili-maple mixture, a poached egg that was placed inside the cap, and the strawberry gastrique on top.
I think parts of the course worked better than others, but it seemed that the flatbread was everyone's favorite. Manish and I were surprised by the balance that the sweet berries and savory protein brought to the dish. And although I am a huge fan of "less is more," this was a ridiculous challenge (proposed by ME!) and somehow, some way, it worked….. For all of us! We chose a grenache based wine to pair with this course. The 2006 Coume del mas Coullieure Schiste in my opinion was a nice choice – berries and game in both the food and the wine!
Dessert
Rick and Sejal created a picture perfect plate of "Summer" for dessert. As Sejal explained, she wanted us to think about happy children playing in the park, ice cream trucks, sunny days, and skinned knees – all of the components of summer that we as parents are so fortunate to experience through our kids. What a perfect ending to an absolutely terrific meal. We first bit into a deliciously sweet and tangy berry tart. It was an open faced rustic sort of tart, with a delicate but oh so savory home made crust. The filling incorporated various summer berries and the addition of maple syrup. The ice cream cone was filled with homemade strawberry and guajillo chili ice cream. The fresh, ripe strawberries took hold of your palate at first, and then the spicy guajillo kicked in on the finish. Absolutely brilliant and it certainly pleased that "kid" in all of us!
Thanks to all of my fellow battlers. This may have been the last "Food Feud" for a while, so thank you for putting your ALL into the meal last week, and making it a BERRY delicious one!  YES…. I had to go there. 🙂