There are many things that I love about the warm weather and the start of summer. Vacation for the kids, the beach, the pool, dining al fresco… You get the point. But here are some of my favorite libations to sip on the hammock, pool-side, at the beach, or at one of my favorite picnic spots!
2008 Quinta da Aveleda Grinalda Reserva DOC, Vinho Verde – From the Vinho Verde region of Portugal, this producer makes a vibrant, fresh, and crispy wine from the grape varietals Trajadura, Loureiro, and Alvarinho. This is the perfect summer sipper… I wouldn't mind some fresh seafood to pair with, but it's great on its own!
2008 Domaine de la Pepiere Muscadet "Les Gras Moutons" Sur-Lie – "Crisp, stony, briny, and spiny" are the words used to describe this wine which hails from the Muscadet region in the Loire. 100% Melon de Bourgogne (the grape varietal found in Muscadet wines,) this wine has amazing length and versatility. GREAT with oysters from Metropolitan Seafood, or, if you wish, on its own.
2008 Lydie and Thierry Chancelle Saumur Blanc – Chenin Blanc is one of m
y all time favorite grape varietals. The resulting wines from good producers are so versatile, ranging from dry varieties to just off dry, to almost "dessert wine" sweet. All the while, displaying notes of stony minerality, fennel,  citrus, acacia blossom, and such balanced acidity and length. I love this wine with Seared Scallops and Summer Fennel Slaw with Citrus Tarragon Vinaigrette.
ROSE'! My favorite Rose' to date (sadly, I am almost done with my stash… sigh) is the 2009 Domaine du Bagnol Cassis Rose, Provence.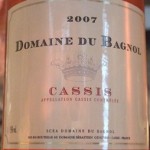 This is a blend of Cinsault, Grenache, and Mourvedre. Mineral, dry, long finishing,with berry goodness. The perfect accompaniment to my steamed mussels with Chorizo Broth. A close second is the 2009 Domaine des Haut Cances Cotes du Rhone Villages Cairanne Rose or the 2009 Janasse Rose Vin de Pays Principaute d'Orange.
2007 Alain Corcia Bourgogne Rouge Reserve Grande Classe – The perfect light red to accompany a summer meal! Juicy enough for sipping on the deck too… and a great pairing with grilled salmon!
The Kachumber Cooler – Made famous at Danny Meyer's restaurant, Tabla, in NYC, the Kachumber Cooler is a refreshing gin-based cocktail with the additions of cucumber, cilantro, green pepper, and lime. The "Bardolia" version adds a little ginger infused simple syrup (instead of regular) kicking it up just a notch.  We served these addictive cocktails with an Indian inspired bbq menu!
Summer has officially BEGUN. Enjoy!! 🙂