Despite the balmy temps we've had here in NJ these past few days, it's that time of year… Diwali, the festival of lights, is right around the corner.
What exactly does this time of year mean to me? In non-Covid times, it would mean family gatherings, bright celebrations, and weeks of consecutive dinners and events with loved ones… Starting with Diwali, then Thanksgiving, Christmas… Not to mention the long days at work that Q4 brings to the Retail Wine World.
But alas, this year is a little different. My family and I are attending my mom's Diwali celebration this year via Zoom. Our family Thanksgiving celebration is canceled. And as of now, we are looking into ideas for virtual Secret Santa and Holiday Cheer. I hope that something changes, but trying to stay vigilant for now.
Back to Snacks and Gems! I was sifting through my freezer on Saturday when I found a marked bag of corn kernels – bagged and vacuum sealed in August, the peak of the season. I remembered how sweet this corn was that I bought at the farmer market that sunny summer day. I scoured my online files of corn recipes, searching for something that would showcase the flavor of these golden nuggets but trying to stay away from anything too "summery." Going back to my roots, and anticipating next Saturday's Diwali holiday, I decided on a recipe for and Indian style corn fritter (Makai Pakora.)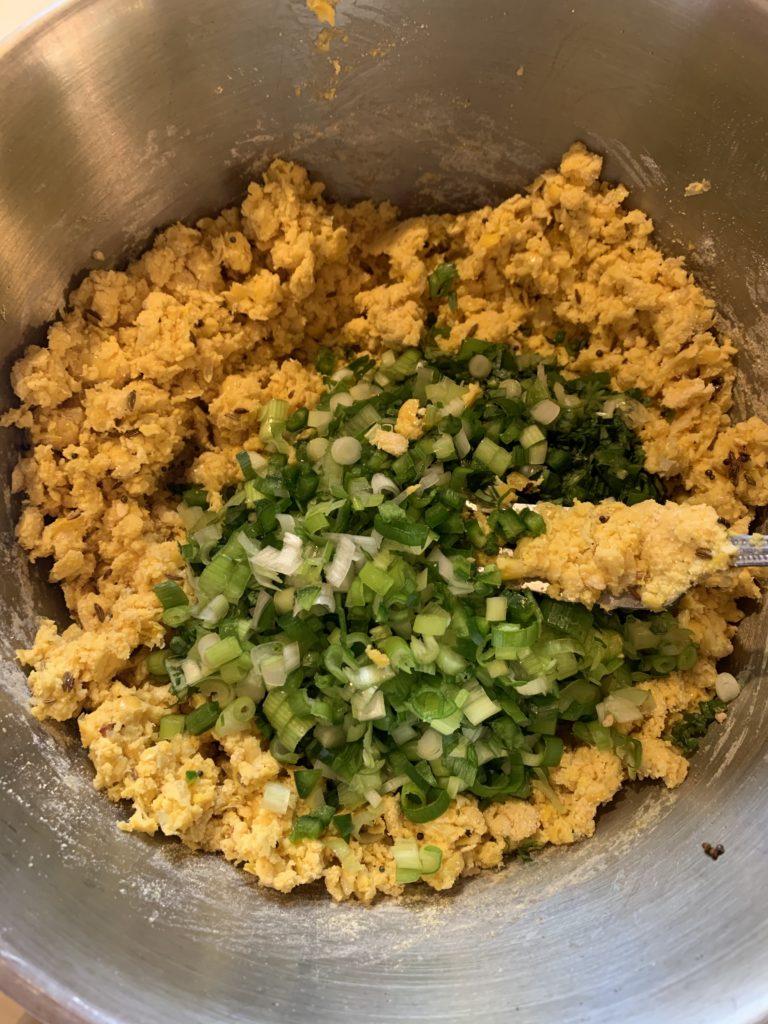 This is a simple, fresh, and flavorful version of the traditional pakora that I grew up eating. It's an adaptation of David Tanis' Spicy Corn Pakora recipe from the NY Times. The flavors will really pop if you have sweet, fresh, summer corn but it's a pretty forgiving recipe and will be delicious with off-season as well… If you are like me and avoid deep frying at all costs, don't fret! It was surprisingly easy and the fritters brown well in only a few minutes. I made these a few hours ahead of time, so I just popped them in a a 350 degree oven for 10 minutes before serving.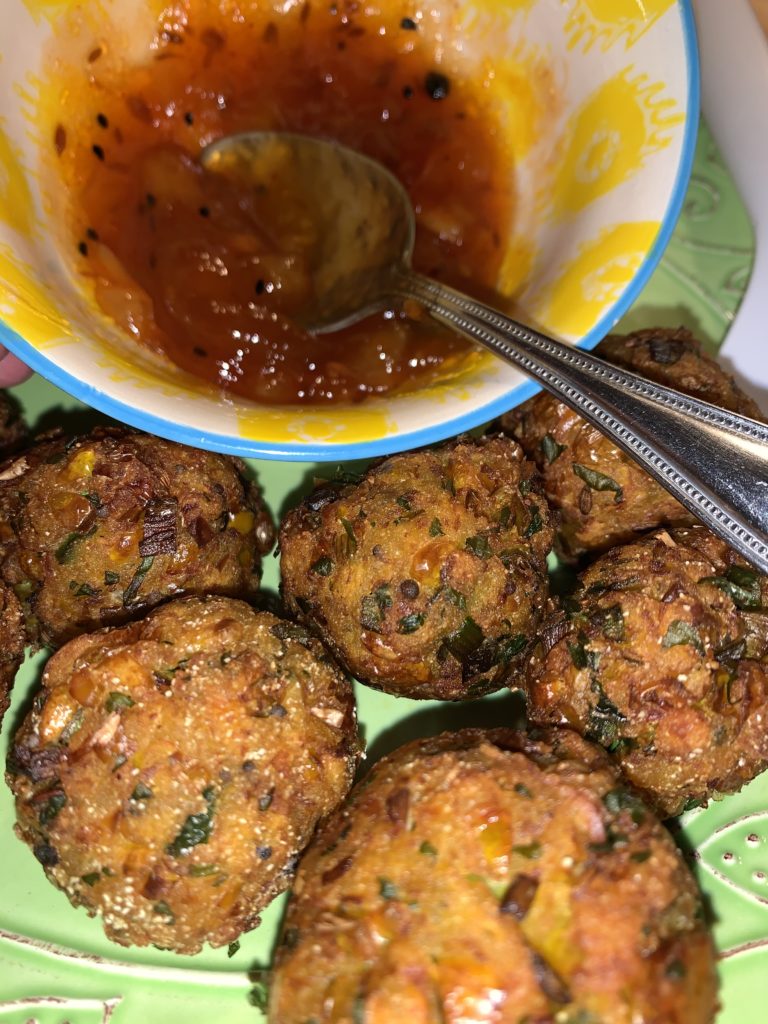 I served these Al Fresco the other night as an appetizer and decided to pair the pakora with a bottle of an extremely rare white wine from the French Basque Region of Irouleguy – Famille Berrouet Herri Mina Irouleguy Blanc 2018. (Now that's a mouthful!)

Leave it to Jean-Claude Berrouet (former winemaker at Petrus) to make a complex yet quaffable white wine out of the sleeper varietals Gros Manseng, Petit Manseng, and Petit Corbu. The Herri Mina estate was created by Jean-Claude after many years of working at the esteemed Pomerol property and feeling the pang to return back home to Irouleguy. In Basque, "Herri" means country and "Mina" means homesick.
Enamored with the name of the estate and equally in love with the stone fruit, honeysuckle, and briny qualities of this wine, I'm hard pressed to find a better white that possesses the texture, minerality, and length that this little Basque Gem embodies. Of course, it's available at 56 Degree Wine – click here to buy!
Makai Pakora (Spiced Corn Fritters)
Ingredients
1 cup all purpose flour
3/4 cup fine corn meal
1/4 cup chickpea flour
1 and 1/2 teaspoons kosher salt
1/2 teaspoon baking powder
1/2 teaspoon turmeric powder
2 and 1/2 cups fresh corn kernels (from approx 5-6 ears of corn -if frozen, thaw)
4 tablespoons canola or grapeseed oil
1 teaspoon cumin seeds
1/2 teaspoon mustard seeds
1/2 teaspoon fennel seeds
1 red or green chile – finely chopped
1/2 cup chopped scallions
1/2 cup chopped cilantro
1 tablespoon grated ginger
Canola oil for frying
Mango Chutney (such as Major Greys)

In a large bowl, combine the flours, the cornmeal, the salt, baking powder and turmeric until well combined.

Process the corn in a food processer until a coarse puree forms. Add the puree to the flour mixture and combine (mixture will be thick.)

In a small fry pan, bring the oil to medium high heat and fry the cumin, mustard, and feenel seeds until they are well browned and start to pop. Add the oil and spices to the batter and mix. Add the scallions, cilantro, and ginger to the batter and mix well. (Batter can be made a few hours before frying.)

Pour a few inches of oil into a large sauce pan and bring to medium high heat. The oil is ready when it starts to look wavy. Take a 1 inch ice cream scoop and make balls out of the batter (a few at a time at first) and carefully place the fritters in the hot oil using a 2nd spoon. The fritters will brown evenly and will take a bout 2 minutes to cook through. Using a spider, pull the fritters out and drain on paper towels. Continue with remaining batter.

Serve immediately (or reheat fritters in a 350 degree oven for about 10 minutes) and serve with your favorite Mango Chutney. I love Geeta's brand pictured here.


Makes 18 -20 fritters