Greetings! Let me start by continuing my online journey of my gastronomic week, or shall I say, MONTH!?
Next stop was WD-50. Stop THREE of my gastronomic week 2010. The first time I dined at the acclaimed Wylie restaurant, I was rather unimpressed. Perhaps I was fearful to detach myself from my traditional culinary roots? I don't know… But I was determined to 1) have a completely different experience and 2) meet Wylie. 🙂 Plus, a good friend was insisting I give this place just one more try.
Drum roll… a different experience it was! The courses were flavorful, and full of texture and complexity.  We, as a table, shared two orders of the eggs benedict, which consisted of deep fried hollandaise sauce, the thinnest pieces of Canadian bacon you'll ever see,  and creatively prepared egg yolks. Nothing healthy about it, but it was delicious! I went with the cuttlefish appetizer with cashew and rootbeer. Heavenly – and the cashews added such amazing texture.
Others at the table that day raved about the aerated foie gras. Divine. Light as cotton candy, with the decadence of the rich delicacy. For my main course, I decided on the scallop dish – accompanied by chicken fried lentils (crispy and yummy,) radish, and lychee. Innovative and creative flavors blended into one unique and delicious dish. We had the Margaine Brut Rose with our appetizers and then moved to a magnum of an incredible Riesling that I can't for the life of me remember – can any of my dining companions refresh my memory? A perfect pairing for my scallops! And yes, Wylie was there. I was a tad star struck and got all googly as he whisked by me at one point to get what seemed to be a glass of water from the bar. Mission accomplished. 🙂
And then there was STOP NUMBER FOUR. Literally, at this point, I felt as though I needed to do a cleanse diet in between all of my extravagant dinners. This time, we celebrated a friend's birthday and introduced them to our favorite restaurant in the state… yep. elements in Princeton… Again!
The chefs paired some fabulous courses to the wines that we chose for the evening… 2006 Albert Grivault Meursault, 2002 Lopez de Heredia Bosconia, and 1999 Terrebrune Bandol Rouge. Manish and I both agreed that this was our all time favorite dining experience at elements (trumping my last post) which proves to me that the staff here are always aiming to grow and surprise you more with each visit! A peak into what we feasted upon… no pictures of the food but trust me when I say that each and every plate was an artistic masterpiece, showcasing the colors and flavors of the season and of course the amazing talentsof Chef Scott Anderson and Chef Joe Sparratta.
~The amuse bouche trio: Beet Salad; fresh Tomato soup with fennel salad; Broccoli soup
(The guys enjoyed the Maple Loch Cocktail with this and the gals enjoyed the 20th century cocktail – Mattias at the bar is a genius!)
~Super sweet cherry tomato salad with fresh feta cheese and basil
~Local peach salad; red quinoa; fleur vert; black garlic; poppy seed sponge cake – as uniquely amazing and satisfying as the last time!
~Tuna belly and hamachi sashimi with pear and jicama – So fresh and clean, with the perfect balance of fruit and acidity.

~Geoduck with herb risotto, clam juice, saffron, and fried artichokes – Last time I had geoduck was at dim sum. I liked elements' version much better – perfectly cooked, so tender!
~Seared scallops with romesco sauce
~Turbot with mustarda greens – I'm a sucker for a good hearty green 🙂
~Hazelnut tortellini with shaved truffles, parmesan crisp, pecans, and garlic chips – Truly Decadent!
~Seared foie gras with pear and maple syrup – As though the word "decadent" should have an even richer meaning 🙂
~Veal sweetbreads and caramelized sunchokes
~Smoked duck with fingerling potatoes and haricot verts – Amazing pairing with the 99 Bandol!
~Pre-dessert was the Bacon and Eggs – something I think I would order EVERY time I go!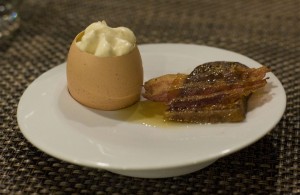 That marked the end to my gastronomic MONTH. Stay tuned to my October musings – I look forward to sharing! Cheers!!