Posted in
Food
,
Pairings
,
Recipes
,
Wine
on January 26th, 2011 by nita –
2 Comments
Wow. No mistaking that it's winter these days – huh? I wish that I could close my eyes and take myself to a warm and sunny place. Weather like this demands comfort food. One of my all time favorite techniques of comfort food cooking is braising. This recipe is super easy, and essentially adapted from Anne Burrell's repertoire. I changed only a few things here and there, so I thought I should give her proper credit. Definitely something to make when you are home, stranded, because of YET another snow day…
My Favorite Lamb Shank Recipe
This comforting, warm, and utterly satisfying dish needs a rich, robust, and hearty red wine.  The perfect food and wine pairing for a cold winter day, or when you are snowed in!  (The optional gremolata will add brightness to the dish)
Ingredients:
1/3 cup olive oil
5 lb lamb shanks (4 shanks total)
1 ½ cup chopped onions
1 ½ cup chopped carrots
1 ½ cup chopped celery
¼ cup chopped garlic
2 (6 oz) cans tomato paste
½ bottle of a hearty red wine
Herb bundle: 4 rosemary branches, 12 thyme branches, and 4 bay leaves tied together
4 cups chicken broth or water
Instructions:
Preheat oven to 375 degrees F. Heat the 1/3 cup olive oil in a large Dutch oven over medium high heat. Season the shanks generously with salt and add them to the pan. Patiently, brown the shanks well on all sides. This should take about 12-15 minutes total.
Meanwhile, puree the next 4 ingredients in a food processor. Set aside.
Remove the shanks and set aside in a tray. Discard all but 2 tablespoons of fat from the Dutch oven, and add pureed vegetables. Season with salt to taste. Saute about 15 minutes until the veggies are brown. They should have almost formed a crust on the bottom of the Dutch oven, without burning.
Add tomato paste and brown for 5 minutes. Stir in the wine and the herb bundle, and reduce the wine to about half.
Add the shanks back to the pot, and pour in 4 cups of the broth or water. The shanks should be submerged in the liquid. If they are not, add more water. Cover the Dutch oven and place in the oven.
Check the shanks in about 1 ½ hours, and turn them all over. Place back in oven, covered, and cook for another hour to hour and half. Check the shanks every 30 minutes or so, checking to make sure that the liquid has not reduced too much. If it has, add more water. You may also de-fat the sauce as you go. You may also remove the lid at the last 15 minutes of cooking to maximize browning.
The meat will be incredibly tender, and falling off the bone. Transfer to a serving dish, and sprinkle with gremolata if desired. Serve one shank per person, over mashed potatoes or soft polenta… Enjoy!
Optional Gremolata: Combine zest of 1 orange, zest of 1 lemon, ¼ cup finely chopped parsley, 1 minced garlic clove, and 2 tablespoons of freshly grated horseradish, Sprinkle on the lamb shanks just before serving. This adds a lovely brightness to the dish!
Serves 4
I would drink this with a southern Rhone blend with a lot of juicy ripe fruit character. I love the 2009 Chateau La Clotte Fontaine Mathierou. It's a perfect blend of Grenache and Syrah showing dark berry tones and balanced spice. Gorgeous length. It'll be available again soon at 56 Degree Wine.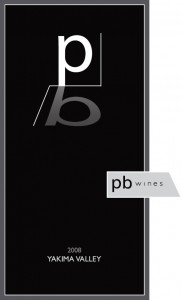 Another great wine to try this with would be the 2008 PB Wines Syrah Yakima Valley. A new world option, this wine shows lush dark berries and fig, and the length is incredible as well. This is sort of a second label of Rasa Vineyards -  I love the story behind this union of brothers who make and sell some fantastic Rhone-style varietals.  Read here to get the scoop on PB wines! This is also available at 56.