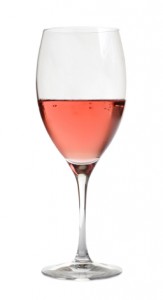 Rose' season has sprung, and I am happy to report that I have tasted a healthy dose of "pink" so far this year. They are created in varying shades. And although color doesn't always give away what the flavor intensity will be, I tend to prefer the ones that are a true "blush" or "barely pink." Crisp, mineral, and long finishing rose's are the ones on my radar. I tend to love ones from Provence  and other southern French regions – usually boasting a wealth of flavor from the Grenache, Syrah, Mourvedre, and Cinsault grape varietals.
Most rose's that I have come across have utilized the traditional method of "limited skin contact" during production. In other words, the red grapes are crushed, juices are extracted, and the skins are left in contact with the juice for a limited amount of time. The structure of the wine is more like a white wine than a red, due to the lack of tannin structure that you would get from longer skin contact (ie when making red wines.) There are other ways to make rose… In Champagne, for example, they vinify red and white wines separately (usually Pinot Noir or Pinot Meuniere for reds, and Chardonnay for whites) and then they blend the wines to make rose'. Another method is "Saignee," where the winemaker bleeds off the juice after limited skin contact with the skins. The pink "must" is removed and vinified separately than the concentrated red juice that is left over. Essentially, rose is considered to be a byproduct of red wine fermentation in this method.
There are three rose's that I have come across so far this year that have "WOWed" me. One is a favorite of mine that year to year has remained consistently high quality. One is a very unique result of brilliant wine-making, and one is perhaps my new all around favorite – in price and quality, but unfortunately not in quantity, as I have yet to acquire any for myself! See the descriptions below and enjoy the recipe with any of these, or your favorite pink!
2010 Domaine du Bagnol Cassis Rose – A gorgeous blend of Grenache, Cinsault, and Mourvedre…  Melon, berries, stone fruits, and lots of minerals. This wine is so complex! Super long finishing, and perfectly balanced acidity. I know that I say this every year about the current vintage, but the 2010 just might be my favorite!
2010 La Crotta di Vegneron Pinot Noir Bianco (Rose) Vallee d'Aosta – This is 100% Pinot Noir vinified off the skins for 5 months. The high altitude of the vineyard yields the unique fruit for this fabulous terroir driven wine. This producer farms organically, and they use the same grapes to make their fabulous red version of the Pinot. Don't let the color throw you – this "barely pink" wine is full of texture and flavor. Rainier cherries, red berries, and serious minerality provide the backdrop for this complex and long finishing rose. This one is still available at 56 Degree Wine!
2010 Mas de Cadenet Rosé Sainte Victoire – This is by far the most value driven, and complex rose of the year! Gorgeous white flowers, red berries, melons, and sweet red fruit give way to sea shells and minerality. The color is a perfect blush… Another wine that lingers on the palate and screams "drink me now!" I was fortunate to enjoy this on my deck last week on Memorial Day, and I will have to wait until July for our next shipment. The magnums come in stunning bottles and may be the centerpiece at our next outdoor soiree 🙂
Mussels with Sausage and Herbs
2 teaspoons olive oil
1/2 lb smoked sausage, diced (I've used chorizo in the past but you can use whatever you prefer)
3 garlic cloves, peeled and sliced thinly
2 lbs mussels, cleaned and debearded
1 large tomato, seeded and diced
1 1/2 tablespoons chopped fresh thyme
1 1/2 tablespoons chopped fresh oregano
3/4 cup white wine
1/4 cup water
1 tablespoon butter
chopped fresh parsley
In a large saute pan, warm the olive oil over medium heat and add the garlic and sausage. Saute for 3 to 5 minutes, being careful not to burn the garlic. Add next 4 ingredients and stir well. Add the wine and the water, cover the pan, and cook over medium heat for about 7 minutes, shaking the pan once. Most of the mussels should have opened by now. Uncover and simmer until the liquid is reduced by about half, about 3 to 5 minutes. Add the butter and mix into the sauce. Transfer the entire contents of the pan to a serving bowl, sprinkle with parsley, add crushed black pepper and salt (if needed,) and serve with crusty garlic bread. (Discard any unopened mussels.) Serves 4.