I grew up enjoying the sweet, rich dairy concoctions from India that my mother would make for celebratory occasions. Often making her own version of ricotta, she would always allow me to "sample" the still very hot batter for her famous Indian sweet… "Burfi." I leave the burfi-making to my mother, but one of my favorite tried and true dessert recipes of all time is for ricotta cheesecake. Perhaps dating back to the pleasure I felt as a child while eating my mother's creations, ricotta cheesecake takes me to a very happy place 🙂
I'm sure if I had an Italian grandmother, I would have a treasured family recipe to pass down to my children… But instead, I have a recipe that I have tweaked through the years, and one that I may say I am quite proud of. But something about this dessert just wasn't screaming "pass me down to your children because this defines who you are as a mother, wife, and cook!" So, I Nita-fied it. Enjoy!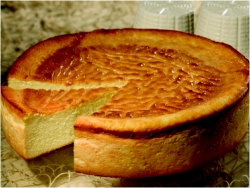 Ricotta Cheesecake with Chai Spices
Serves 10-12
2 lb whole milk ricotta (fresh if possible)
1 tablespoon butter, room temperature
2 teaspoons sugar
¼ teaspoon cinnamon
pinch of ginger powder
3 tablespoons unseasoned dry breadcrumbs
1 lb cream cheese, room temperature
1 cup sugar
2 large eggs
1 tablespoon fresh orange juice
1 teaspoon lemon zest
1 teaspoon orange zest
1 teaspoon vanilla extract
1 ½ tablespoons masala blend for chai (see my previous post)
pinch of salt
1 tablespoon of salt free matzo meal (if you can't find matzo meal, process matzo crackers into fine crumbs)
Drain ricotta in a fine mesh strainer over a bowl for 30 minutes.
Preheat oven to 350 degrees F. Grease an 8 inch springform pan with 2 ½ inch sides with butter. Combine the 2 teaspoons sugar, cinnamon, ginger powder, and breadcrumbs together in a bowl, and sprinkle inside the pan. Coat all sides and bottom of pan, tapping out excess.
Transfer the ricotta to a food processor and puree until smooth, scraping down sides when necessary. Add cream cheese and puree until smooth. Add the rest of the ingredients and puree, scraping down the sides when necessary, until very smooth. Transfer batter to the prepared pan and bake until golden brown and just set, about an hour and 15 minutes.
Let the cake cool on a rack (it will deflate slightly.) Then refrigerate uncovered for an hour. Cover the cake and refrigerate overnight. To serve, remove the cake from the refrigerator about ½ hour before serving. Remove the pan sides and dust with powdered sugar. Cut in slices and serve with chilled whipped cream or vanilla ice cream.