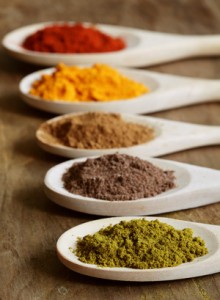 This is one of my favorite "special occasion" recipes that reminds me of the flavors that I grew up with. I used to take for granted the exotic aromas, colors, and tastes of the foods from my childhood, from my parents' birth country. But now I embrace them and search for the perfect pairings that will only enhance these fabulous flavors!
My mother taught me at a young age that every aspect of Indian cooking has a practical "reason" or benefit. For example, Turmeric is used in almost all Indian recipes, and has an extensive medicinal repertoire! Everything from its antioxidant qualities to its anti-inflammatory uses, has awarded this amazing spice its invaluable reputation. Additionally, the use of ginger in almost all of my childhood meals was used to aid in curing sore throats, colds, and even used in preventative measures. Roasted Fennel seeds are a common "after dinner treat" that aid in digestion. While many of these ingredients add flavor and depth, Indian food is also known for its heat – both warm and spicy!
Riesling is known to be an optimal pairing for spicy foods. I find that the acidity in the 2012 Donnhoff Estate Riesling offers a perfect balance to the wine, and the sweetness of it pairs perfectly with this dish. Enjoy!
Chicken Tikka Masala
Serves 4 dinner portions
For the marinade:
1 cup whole milk yogurt
6 garlic cloves, minced
2 tablespoons grated fresh ginger root
2 teaspoons ground turmeric *
1 tablespoon ground cumin
1 tablespoon ground coriander
1 tablespoon garam masala *
1 tablespoon kosher salt
2 lbs boneless skinless chicken thighs (make small slits in pieces of chicken before marinating)
* Can be found at specialty markets and grocery stores, or at Specialty Asian/Indian grocers – or try Kalustyans
For the sauce:
2 tablespoons plus 1 teaspoon canola oil
¼ cup blanched whole almonds
1 large onion, finely chopped
4 large garlic cloves, minced
2 teaspoons grated fresh ginger root
2 teaspoons ground cumin
2 teaspoons ground coriander
¼ teaspoon ground cinnamon
2 teaspoons fresh chopped serrano chili or 1 teaspoon ground cayenne **
1 teaspoon garam masala
1 28 oz can Jersey Fresh pureed tomatoes OR 2 to 3 (14 to 15 oz) cans whole tomatoes, chopped, juices reserved
Pinch of sugar
½ cup heavy cream
½ cup chopped fresh cilantro leaves (optional)
** This dish is moderately spicy. The heat level can be adjusted by adding more or less chili or cayenne according to your preference.
Marinate the chicken: Combine the first 8 ingredients together in a large bowl. Add chicken and combine well. Marinate overnight in the refrigerator.
The next day, grill the chicken (wiping off any excess marinade) on a hot grill or grill pan, or you can broil it – for ten to twelve minutes, or until charred in certain areas. CHICKEN WILL NOT BE COOKED THROUGH AT THIS POINT. Remove from grill/ grill pan/ oven and cut into 1 inch pieces. Set aside.
Heat 1 teaspoon of oil in a small pan. Add blanched almonds and sauté at moderate heat until slightly browned stirring constantly, about 5 minutes. Let the almonds cool completely, and then pulse them in a food processor until finely ground. Set aside.
Heat the remaining 2 tablespoons of oil in a large enameled cast iron casserole (I used my Le Crueset.) Saute the onions, garlic, and ginger over moderate heat, about 8 minutes. Add the next 5 ingredients and sauté for about 1 minute. Add the tomatoes (if not using Jersey Fresh, add only one and a half cans of the reserved juices,) sugar, and season with salt and pepper. Cover partially and simmer for about 20 minutes, on medium low, stirring occasionally. Sauce should be slightly thickened at this point.
Add the cream and the almonds, stir and cook for another 5 minutes. Add in the chicken, simmer gently for 10 minutes, stirring frequently. Add the cilantro leaves at this point if you wish, take off the heat, and serve with basmati rice and/or warm naan.