Farmers Market Finds
Every year on the Saturday before Labor Day, Manish and I take the girls and meet up with Jigna, Piyush, and our nephews in Hoboken or NYC. We then proceed on our annual pilgrimage to the green market at Union Square, then Eataly (for the past two years at least,) followed by a picnic at a family friendly park. The kids enjoy choosing their own foods from the market (and cheeses and breads from Eataly.) And we enjoy exploring and learning about the unique and colorful crops that some of these farmers bring to the table. This year, Manish and I stocked up on many of the farmers market finds and tested them out in our kitchen… and here are some of the culinary results!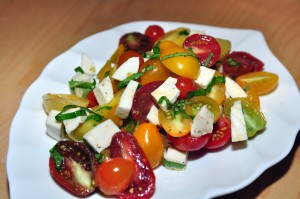 Heirloom cherry tomatoes were chosen very carefully. We tasted as we shopped, and these were the sweetest! We used some basil and fresh mozzarella to create  a very simple heirloom salad. September on a plate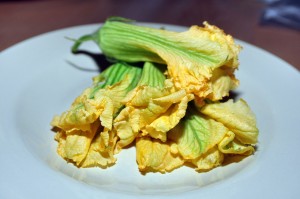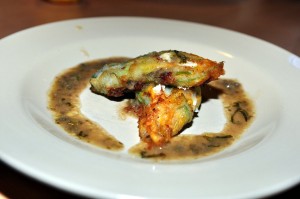 Squash Blossoms…. I tried to re-create a dish that I experienced earlier this summer. Squash blossoms stuffed with fresh ricotta, lightly breaded, pan fried, and drizzled with an anchovy butter sauce…
One of the farms literally had someone sauteeing shisito peppers – fresh – with garlic – and we sampled. Need I say more? We brought some home, and we devoured. Beware though… one out of every 10 is SPICY hot! Delicious, nonetheless!
We didn't bring these home though…. the hottest pepper in the world. The Bhut Jolokia. From India – translated to "Ghost Pepper." We had to take pictures though – gorgeous huh?