First, I need to be clear that this is not an actual blog post about a trip that I took from Burgundy to Vouvray… nor is it exclusively about Burgundy and Vouvray. I wanted to write about a style of white wine that I've become very fond of and the "journey" that has led me to my discoveries…
My love of racy, mineral, and high acid wines has traveled many paths in these past few years. Once a young woman who never swayed from ordering "house whites," I've read, tasted, and experienced my way through numerous regions of the world that offer many interesting and complex white "gems." Being introduced to the wines on the Kimmeridgian trail marked the beginning of my journey, and seven years later, I can say that my travels are far from complete. French, Italian, Spanish, and some intriguing varietals from California and Oregon have all made their presence at my dinner table.
I am often asked the infamous question "Show me your favorite wine," or "What's the best wine in the shop?" These are LOADED questions, as one can imagine… My favorite wine in the shop really depends on the time of year, what I am eating, the people I'm with, and ultimately… my mood. If asked this question 6 years ago, I would have probably shown you the latest, most exciting white Burgundy that we brought into the shop. But today, the wines that excite me need to tell a story, they need to have an underlying complexity that makes me experience something different with every sip. White Burgundy definitely fits the bill, but the list goes on…
How about a dry Riesling from Alsace, Austria, or Germany? Here, yellow and green fruit is flanked by bright floral notes and stony minerality. Sancerre or a value driven Sauvignon Blanc from the Touraine are loaded with citrus, slate, and stones. Albarino from the Rias Baixas region in Northwestern Spain boasts stone fruits and tons of acidity. Pigato from the coastal Liguria region in Italy possesses great fruit but some briny characteristics as does the wine from Muscadet  in the Loire (100% Melon du Borgogne) very clean, crisp, dry, and a perfect match for oysters! Or how about the "Nita wine" that we are now sold out of at the shop – the Cour-Cheverny from the Loire? A style that tastes like a blend of two of my favorite grapes – chenin blanc and sauvignon blanc… but it's made entirely of the romorantin grape.
Then we get into defying all norm as we try the wines from Teutonic Wine Company from Oregon – mostly German and Alsatian-style varietals, residual sugar intact, but not at all noticeable due to the high acidity. These are geeky wines and oh so incredibly delicious!
But I find myself going back to a varietal that is so often under-rated and neglected… Chenin Blanc. I have tasted Chenins from not only the Loire, but from Tasmania, from California, from South Africa, and in sparkling form… and they have proven to be extremely versatile wines. However, the chenins that I have swooned over hail from the Loire…
Savennieres is known as the "dry" appellation of Chenin Blanc in the Loire Valley, located within the Anjou district. Sandstone and schist make up the soil type of this region; and while the wines tend to have extreme concentration to them, they are extremely high in acid. The cooler climate draws out the ripening process and thus results in a nervy and grippy wine. A few years in the bottle usually mellows the wine and allows the flavors to shine. One of my favorites is Domaine Aux Moines Savennieres – Roche Aux Moines 1992. Honey, citrus, toasted hazelnuts, and loads of acidity. Very cool wine. The 2004 is less oxidative but still holds onto its acidity and great fruit!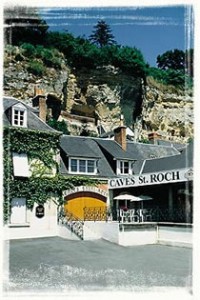 Acidity seems to be an ongoing theme with Chenin Blanc. The little Les Grandes Caves St Roch Vouvray is delicious, and one of my favorite house whites. It pairs with everything from sushi to Indian food… oysters to sesame chicken! Read here for my previous post on this wine.
And then there is the region that I hold a little closer to my heart. Not only do the wines drink fabulously when they are young, bright, and fresh… but they age to an elegant and rich style – all the while retaining the utmost acidity. Off dry, dry, and sweet styles – there is a place at my dinner table for every one! Vouvray is an appellation located in the Touraine district in the Loire Valley. Domaine Huet is the producer that I'll focus on, as the wines are absolutely superb and of the highest quality. Orange zest, fennel, and slate all come to mind when drinking Huet's wines. But the vineyards all differ slightly with their soil characteristics… My favorites are the fresh and clean Domaine Huet Clos du Bourg Demi Sec 2010 and the honeyed and gorgeous Domaine Huet Vouvray Le Haut LieuMollieux 1er Trie 1993.
The following has been taken from this site from RareWineCo:
The Wines: At their discretion, the estate produces Sec, Demi-Sec, Moelleux, or Moelleux 1ère Trie ("first selection") from any of the three principal vineyards. A superb sparkling Pétillant is also made, drawing grapes from all three vineyards, as well as from other small parcels on the estate.
Le Haut-Lieu—The original Huët vineyard is nearly 9 hA. It has the richest soils of the domaine's three crus—a deep limestone-clay—and the wines are generally the estate's most approachable. In some vintages, small quantities from nearby estate parcels may be added to Le Haut-Lieu.
Le Mont—For many insiders, the argument over Vouvray's greatest vineyard comes down to two sites: Le Mont and Clos du Bourg. Undisputably a grand cru vineyard, Le Mont enjoys a choice site on the Première Côte. With less clay and more stone than Le Haut-Lieu, Le Mont yields young wines of intense minerality. With age, the wines develop great length and finesse.
Le Clos du Bourg—Gaston Huët believed this to be the greatest of all Vouvray vineyards. With the Première Côte's shallowest, stoniest soils, its wines often synthesize Le Mont's intense minerality with Le Haut-Lieu's generous texture.
So while I have a place at my dinner table for so many mineral laiden well balanced whites, I find myself going back to Vouvray time and time again. Diversely food friendly and delicious!