I don't know if it was the fresh picked jersey tomatoes, the incredibly aromatic home-grown herbs, or the cook's loyalty to the recipe that made this meal a bit more multi-dimensional than usual…. but this was the best "Kheema" I've had in a long time, and the perfect pairing to go alongside. Kheema is something that my kids call "Indian Sloppy Joes" or "Indian style Chili." It's usually some sort of finely chopped or ground meat cooked with a bunch of aromatic spices and vegetables, served usually with naan. I had to blog about my meal, because last week, Manish made the most INCREDIBLE Kheema I've ever tasted.
Yes, that's right… I said Manish. He actually taught me how to cook years ago, but claims that he "forgot" ever since I've honed my skills. Well, he was the one that was cooking this time. And, instead of what I call the "Indian mom technique" of estimating the ingredients and never jotting them down so as to remember how to make it the exact same way over and over again (the way my moms cook and the way that I often cook,) he followed a recipe to the TEE. The resulting dish had depth, such flavor, and such vibrancy. I can credit the seasonal produce to a certain degree, but let's face it… Manish deserves a lot of the credit! His finesse and loyalty to adhere to the recipe was much appreciated 🙂 My lesson learned: some things are better left un-touched (ie don't mess with a good recipe!) Here it is!
Kheema Matar (Chopped Meat and Peas) from the late Ismail Merchant's Passionate Meals
3 tablespoons vegetable oil
1 large onion, quartered and sliced
4 garlic cloves, peeled and chopped fine
1 tablespoon fresh ginger, peeled and grated
2 teaspoons garam masala
1 1/2 teaspoons salt
1/2 teaspoon ground cayenne pepper
1/4 teaspoon turmeric
1 cinnamon stick
2 cardamom pods, slightly crushed
1 1/2 lbs meat (I have used ground chicken or ground turkey OR I have chopped the meat very fine – you can alternatively use beef or lamb but the cooking times will increase slightly so as to cook the meat through thoroughly)
2 tablespoons plain yogurt
3 medium tomatoes, finely chopped
1 cup green peas (preferably fresh but if frozen, thawed)
handful of fresh cilantro leaves for garnish
Heat the oil in a saute' pan and cook the onion until golden brown. Add the garlic, ginger, garam masala, salt, cayenne, turmeric, cinnamon stick, and cardamom pods. Cook all the spices with the onions for about 5 minutes over a low flame. Add the meat, stirring occasionally until it starts to brown. Add the yogurt and cook for another 10 minutes.  Now add the tomatoes and peas. Cover the saute' pan  and simmer for another 7-15 minutes. That is a large span, but the lower end is for chicken, higher end for lamb/beef. Serve garnished with coriander and with naan.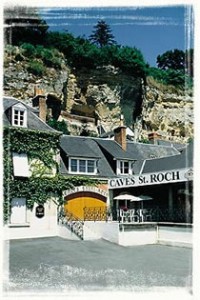 I had the 2010 Les Grands Caves Saint Roch Vouvray with this meal. Such a perfect pairing! Vibrant stone fruits and amazing minerality keep this wine perfectly balanced. A touch of ripeness paired perfectly with the heat of the Kheema. As you may have noticed, I am a self proclaimed Chenin Blanc fanatic…. so this is a keeper for me – and such a steal at $16.50 a bottle when it's available at 56 Degree Wine!