Smoking Duck Breast
Here are the steps we took to smoke a perfect magret duck breast….
What you'll need:
1. 1 magret duck breast half
2. charcoal grill
3. hardwood charcoal
4. wood chips (we used mesquite)
What you need to do:

1. Score the duck breast skin in a criss cross pattern; season with salt and pepper
2. Soak wood chips (we used mesquite) in water for at least 30 minutes
3. Light the charcoal, and make sure it's "white hot" (we did this in a charcoal chimney)
4. Place coals on one side of the grill, leaving the other side "empty."
5. Take enough soaked wood chips to cover the coals and place on top of them.
6. Place duck breast, skin side down, on the hot side of the grill (coal side) for 3 minutes
7. Flip the breast, and place on the indirect heat side of the grill, and continue to smoke for 20 minutes, covered.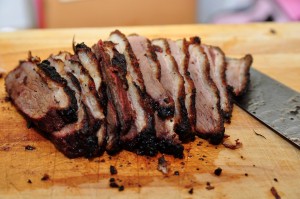 Result:
Smoked duck breast…. slice and enjoy!